Add your Loxi calendar to any Drupal site in a few quick steps. Please see our full tutorial on embedding calendars for a deeper dive on how to customize the calendar widget.
1. Log in to your Drupal website
You probably already knew this one but, hey, it's worth mentioning.
Pro tip: Make sure the user you are using to log in with has the Use the Full HTML text format permission (under the Filter section).
Caution: This permission has security implications. Make sure you grant such a permission with care. In doubt, read the documentation carefully.
2. Navigate to Manage > Content > Add Content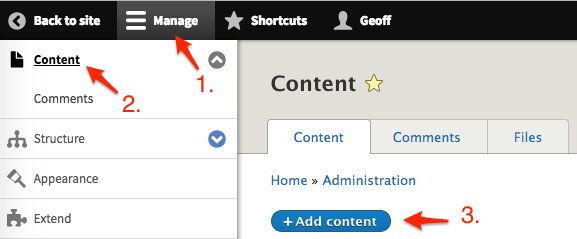 Drupal allows you to either create a new page/article or edit an existing one.
Choose whether you want to embed your Loxi calendar on a new page or make a new one altogether. Either way works!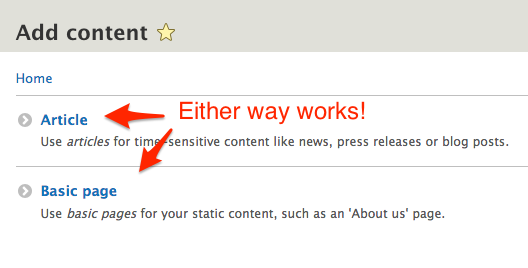 3. Embedding the code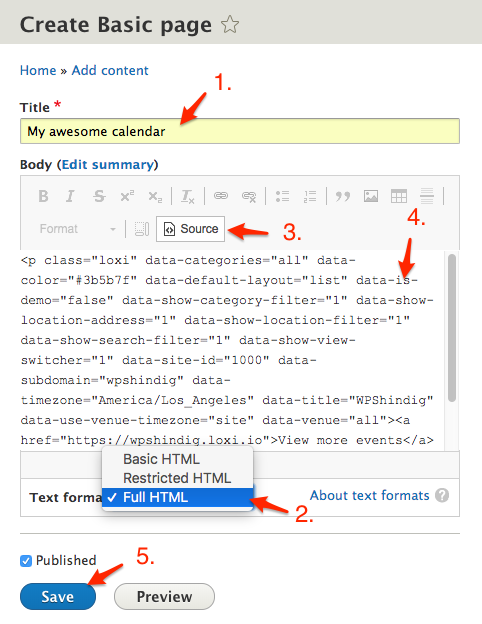 Add a title
Select the Full HTML option for the Text format drop-down menu at the bottom of Drupal's editor
Click on the Source button in the editor's toolbar
Take the code snippet you copied from Loxi's Embed / Export screen and paste it into Drupal's text editor
Hit the Save button
4. Stand back and admire your work
Once you've clicked the Save button and saved your page/article, visit the page and your Loxi calendar will be on the screen. High fives all around!
---
If you bump into any issues, check out the Troubleshooting Embeds section of our Embedding Calendars tutorial for a few tips.